Another great holiday is here, and it's time to take advantage of it with your kiddos. St. Patrick's Day is full of lots of great fun and traditions, and best of all, there are lots of awesome crafts you can do. Leprechauns, shamrocks, pots of gold and rainbows are in abundance. What better way to get in the swing of spring than with some adorable crafts of your own?Whether there's Irish blood raging your veins or not, one thing is for sure: These crafts are super adorable, super easy and will make your little one's day.
Handprint Shamrock
Simple and adorable, this handprint shamrock will definitely be a keepsake. Use poster board or a paper plate as your canvas. Cut out the shape of a clover, using a printable template to help with uniformity. Green finger paint brushed onto your little one's hands is perfect for creating the green leaves. Press each hand down on the canvas. Sprinkle with glitter for extra sparkle and fun.
Shamrock Man
This shamrock buddy is sure to bring a giggle to your kids. Another easy craft for last-minute entertainment, you can make this guy with items you're likely to have on hand. Paper, glue sticks and a pair of scissors are all you need. For young kids, precut the pieces ahead of time, so they can help you with the assembly.
Coffee Filter Shamrocks
These coffee filter shamrocks are a true work of art. Using just coffee filters, pipe cleaners, cold water and food coloring, this is an easy project that has a gorgeous result. Older kids will be able to help shape the shamrocks with pipe cleaners. For younger ones, you may want to do it ahead and have them help with dying the filters.
Paper Plate Pot of Gold
A paper plate turned pot of gold is a fun craft for everyone! Help your little ones cut out the handle on the plate and paint or color it. Use circles cut out of construction paper for the gold. Embellish with jewels or glitter for some St. Paddy's Day sparkle.
Rainbow Binoculars
Rainbow binoculars are perfect for finding that pot of gold. Using old toilet paper rolls, wrap up your binoculars with construction paper, ribbon or washi tape. Mess-free glue dots get the job done and are easy enough for younger kids to use. Attach a strap of ribbon at the top for holding the binoculars as a necklace.
Bearded Leprechaun
This bearded leprechaun is festive and super cute. Your kids will get a kick out of making their leprechaun smile or look surprised. The beard is cleverly made with fork tines dipped in paint. Once the beard is dry, you can attach a cute green hat to complete his Irish look.
Fruity Rainbow Necklace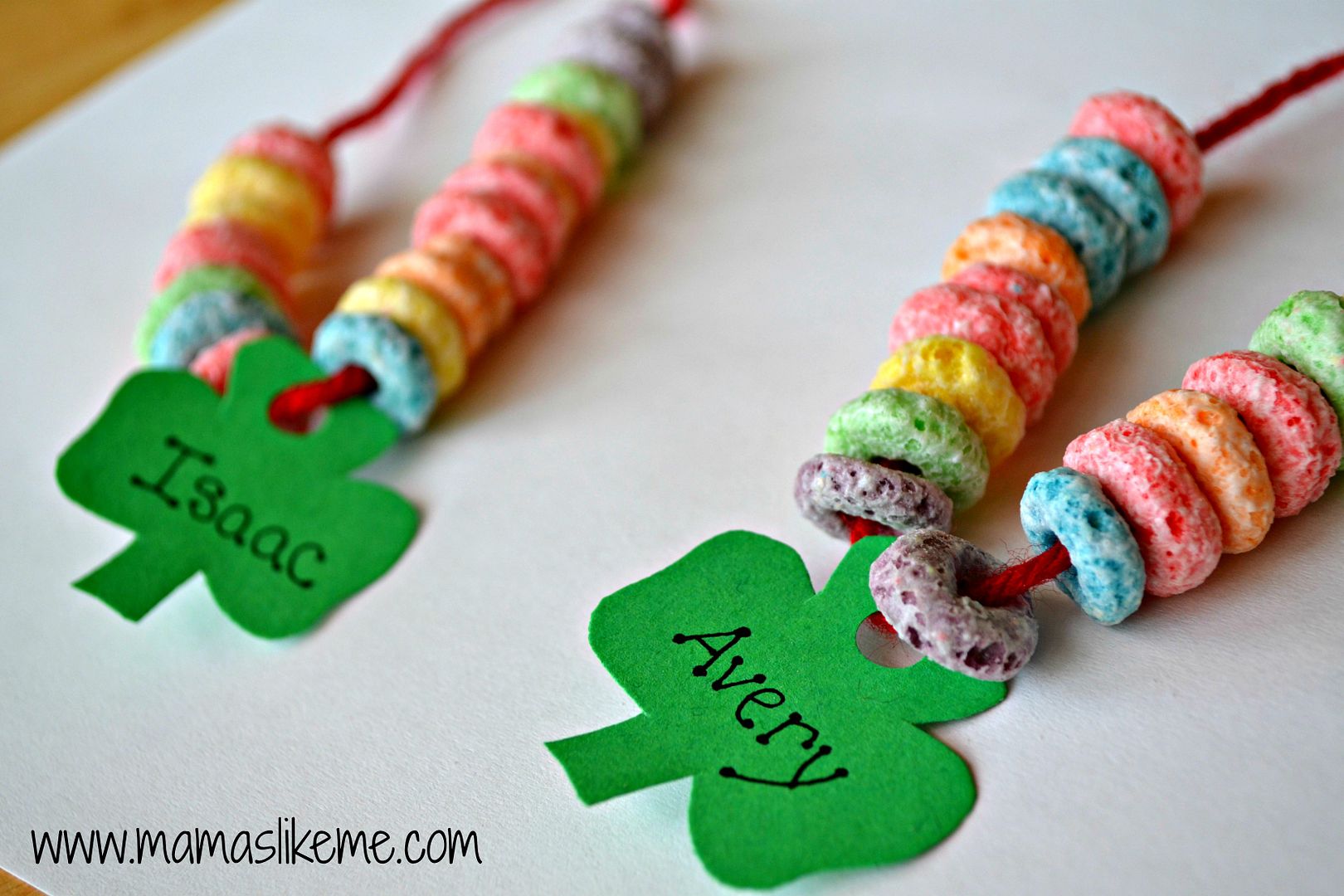 There's nothing as fun as a necklace you can eat! These cute rainbow necklaces feature fruity loops on a string. Your kiddos will love assembling these — and eating the extras. Ribbon or string work for the necklace, and tags with your little ones' names make the look complete.
Shamrock Garden Stones
Though the winter weather may be in full force where you are, spring is just around the corner. What better way to bring some good luck and good weather than with these painted rocks full of the luck of the Irish? Grab stones from a craft store or your yard, wash them thoroughly and let your kids give them a fresh look.
Shamrock Puppet
You can't look at these shamrock finger puppets without smiling a little — or a lot. Another quick and easy project, you just need scissors, construction paper, a pen and googly eyes, if you have them. Your kids will love making their shamrock puppets talk, giving them silly faces for every mood.
Toilet Paper Roll Leprechaun Hats
These leprechaun hats would make for some funny pictures when attached to a stuffed animal or photo of your kids. Using toilet paper rolls you have on hand, paint the top of the hats green, add a construction paper brim, and glue on the black belt and gold fitting. When that's all done, it's time for a photo shoot.
Tissue Paper Shamrock
The last on this list shouldn't be overlooked. The bright colors of this tissue paper shamrock make it stand out from the traditional green. Use poster board for your shamrocks and cut — or tear — a rainbow of tissue paper pieces. Layer and glue the pieces on the shamrock to create this stunning look.There are so many great crafts out there for St. Patrick's Day. This roundup of great ideas should get your wheels spinning. Have a great time creating these adorable shamrock crafts with your kids.